This blog is not for profit. All copyrighted images belong to their respective owners and are used for review. New to the blog? Start on the introduction.)
https://whendinosaursruledthemind.wordpress.com/2014/08/18/introduction-remember-dinosaurs-theyre-different-now/
OK, quick post. The next Trope-osaurus is still coming, but I thought this was something I needed to say. The Jurassic World website has just updated, and among other things, we have new dinosaurs!
Well, we knew these dinosaurs would appear, but they are still new images.
First off, we have our first look at the film's Ankylosaurus.
Those of you who have read my blog before know I really hate the cliche of Ankylosaurs with nodosaur like side spikes, and it seems like that's exactly the look they were going with. I would have also liked to have seen some continuity between the films and have them look like the ones from third movie.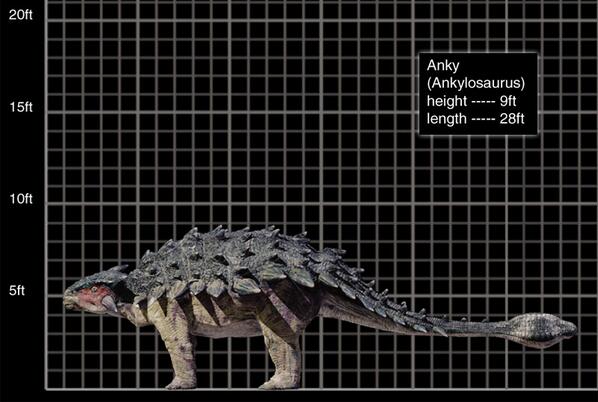 Sigh, same side spikes.
But I'm not mad, it's still awesome!
We also have a close up look at Stegosaurus.
It seems very similar to the trailer ones (I would hope so) and even has those same large scales just below the plates as the ones from the trailer.
Watch the trailer again in 1080p and you'll see what I'm talking about.
We've also got Gallimimus, which looks pretty standard.
If not a tad bit off model.
And finally, we have Mosasaurus.
Hmm, looks like the spines are still present. Oh well, what are you going to do. It's Jurassic Park.
They also added this new dinosaur size chart to the site, which is pretty cool, if not a bit puzzling.
I know the words are kind of hard to read here, but I think the images mostly speak for themselves. It's kind of weird seeing the Baryonyx and Metriacanthosaurus looking smaller then the Velociraptor (even though that;s only what the images look like, the actual sizes written down tell a different story).
Well that's all for now. I'll keep you posted on anything else JP related (you know, if you haven't gone on other websites first). Trope-osaurus is still coming. Until then, see yah.