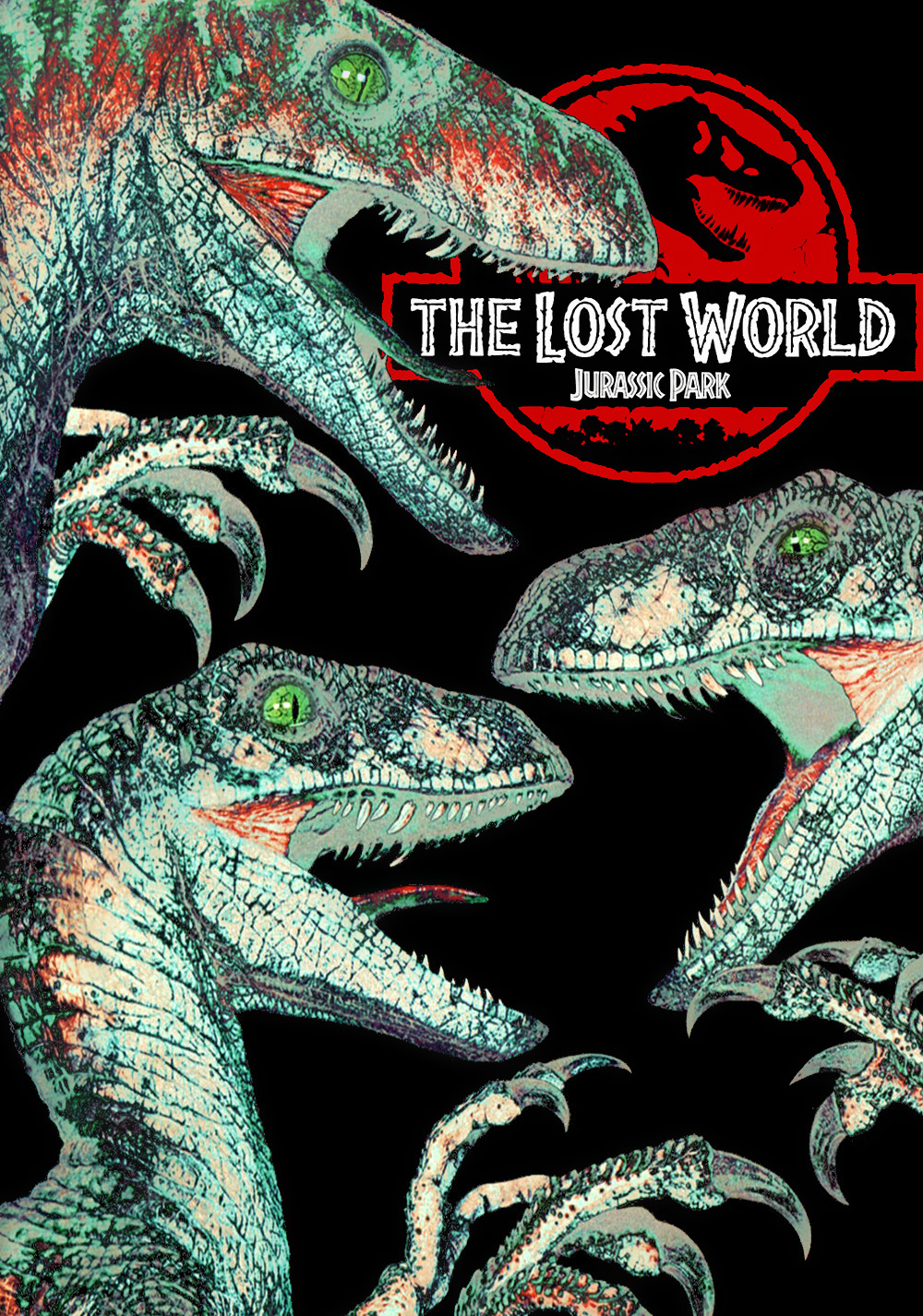 Alright, first review done, now on to the next one. The Lost World was-
Philosoraptor? What are you doing here?
But, you yourself are a Jurassic Park dinosaur, in fact, the very species that gets the most hate! Hey, shouldn't you be saying something satirically philosophical?
Dude, low blow!
Dr. Alan Grant! What are you doing – wait, what did you call me?
Alan Grant thinks I'm awesome? AWESOME! Hmm, DG, I like that. I think I'll keep it. Here that New Age Thinker?! I've got the backing of a respected paleontologist.
OK, OK, I get the message. Look, I'm just here to look over the dinosaurs in the next Jurassic Park movie. What do you want from me?
Look guys, if it's any comfort, I don't hold this movie in as high regard as the first one. if you let me review these dino's fairly AND BY MYSELF, I'll make sure I can please both of you guys.
The Lost World everybody!!! 😀
After the success of the first film, it didn't take long for a sequel to rear it's ugly head. And with another JP movie, that means more dinosaurs. Now, I don't like this movie as much as the first one, but it is still so cool to see all these kinds of dinosaurs. So, without further interruption, lets look at the dinosaurs of The Lost World: Jurassic Park. First, let's get the familiar faces out of the way, starting with…
Tyrannosaurus
Awww, it's a family.
Although the same good things and bad things about the Rexes in the first film are still present in this film, we also get an interesting new behavior: a family dynamic. Since almost the beginning, it was debated whether dinosaurs looked after their young. Even when we found evidence of some dinosaurs doing so (namely Maiasaura, Protoceratops, and Oviraptor), it was still debated whether great carnivores like Tyrannosaurus did so. We haven't found any Rex nests, so we were never sure. At the time of this film, such ideas were fairly new, and the idea that a T. Rex could actually show love and be more than a mindless eating machine was quite a surprise to some movie goers. I'll give this movie points for that.
Now let's look at the baby itself.
I'm the baby, gotta love me.
Nowadays, this little guy would be portrayed as covered in fluff, but for the 90's it's pretty solid.
Now let's look at another familiar face. The Deinonychus, or as you know him…
Velociraptor
It's a 'he'!
Notice something different? It's not grey like the ones in the first one. For the most part, it's the same, just different in color. Why is that? It's male. The dinosaurs are displaying sexual dimorphism, just like many modern birds! This was also a new idea at the time, and one I'm glad the filmmakers incorporated. The first movie had all the dinosaurs as female, but since this movie takes place on an island were the dinosaurs have began breeding, it makes sense to add males, and to make them visually different. I think it was an excellent change of pace.
Girls,girls, you're both pretty. And didn't I say for you two to back off. Anyway, let's look at one more familiar dinosaur.
Triceratops
Dude, I totally feel better! Hey, why are you runnin'?
He only pops up for one short scene, but it's an awesome one. Cool to see him feeling all better. But now, we can see him in action. He's a pretty standard 90's Triceratops, good to see him without any sprawled out front legs. Not much to say really. Let's move on to some new faces, starting with…
Parasaurolophus
Although this guy technically appeared in JP1, we never got a good look at this beautiful dinosaur. Thankfully, we finally get one here. And I must say, this is one of the best restorations of a hadrosaur in any movie ever, especially for it's time. Any other movie would have this guy standing upright like Godzilla, being primarily a biped. Here he moves like a primary four legged animal who runs on two legs. Even in the 90's the upright position was still pretty common, heck, even today sometimes.
This is from a Jurassic Park game from 2010. Unless you're a dino-geek you don't know how wrong this is.
But for the most part, I'm happy with this portrayal. Now, let's move on to everyone's favorite idiot…
Stegosaurus
These guys are mostly good. Tail is off the ground, the plates are in the right arrangement, the spikes stick out side to side and not upright. Just one problem . THEY'RE FRIGGIN' HUGE!!!!
Run! Mutant Abominations!
I mean really, these are monsters. The real Stegosaurus is about half this size. They were probably made this big to make them more impressive, but still. Here is the actual size of a stegosaurus.
It's hard to tell just by looking at the pictures, but watch the movie and you'll see what I see.
OK, next dinosaur. How about we go with this cute little guy.
Compsognathus
Seems like a pretty standard 90's Compy. Today he would sport a nice coat of feathers, but we can forgive them for that. It also had two fingers, a trait we've ditched recently but was very much around at the time. Can forgive them for that also. Plus, they put an effort to make it move and sound like a bird, props for that. Sadly, I can't forgive them for this.
JESUS CHRIST!!!
To make these guys scary, they made them hunt in packs. This is the equivalent of a movie from the far future depicting meerkats like this. Now this idea comes from the novels, except the novels use the similar but much more ancient Procompsognathus (however, the script for this movie referred to these guys as Procompsognathus triassicus, this even made it into the movie, but all material after that refers to these guys as Compsognathus. Take that as you will). They were also venomous in the novel too. In fact, the picture above is very similar to a scene in the first book, except the person involved was Hammond!
Alright, next dinosaur. Let's go to Friar Tuck himself…
Pachycephalosaurus
These guys have the opposite problem of the Stegosaurus. They're a bit too small, to the point the resemble Prenocephale. They could be juvenile, even though we now think the dinosaur Stygimoloch represents a subadult Pachy.
And I really liked you too, Styx.
The Pachy's also engage in some head butting, a practice scientist have been debating for years. Some say their bodies were prefect for headbutting, others say their skull wasn't the right shape for it, others even think the dome on the head supported some keratin mass that can't be fossilized. Your guess is as good as mine, but I'm not going to worry too much about it.
Alright, next dinosaur. Oh, what do we have on the list. Oh, great, everybody's favorite….
Unidentified Sauropod
And there was much rejoicing.
Yay.
Actually, you're both wrong, and right. In the script, the sauropods are referred to as 'apatosaurs'. But in everywhere else they are referred to as Mamenchisaurus. The general consensus is that they are Mamenchisaurus, yet their head looks more like an Apatosaurus to me. Here is some concept art.
Now the neck and tail are more like a mamenchisaur, but the head is that of an apatosaur. To me, it most resembles a Barosaurus.
Isn't the resemblance uncanny?
We only see it for a minute, but it seems fine, neck position notwithstanding. OK, time for our last dinosaur, who do we have?
Pteranodon
As beautiful as it may be, it has a lot of problems. It's a pretty standard depiction for the time, but standard doesn't always mean good. Those days, restorations of pterosaurs were basically just skin and bone, in account that such large creatures had to be lightweight to fly. But this idea is slowly going away now. Instead of the bendy neck you see here, we now think the necks were fuller, thickened with skin and fur (which I don't see here. They knew about that in the 90's!). Plus, Pteranodon's feet weren't capable of perching, and it most likely rested on all fours. Still, it isn't that bad, and is still a magnificent depiction of this beautiful creature. That's more than I can say about the ones in JP3.
Oh, I'll get to you later.
So, guys, how did you think I did?
I'm not sure. There's more dinosaurs here, the ones that carry over from the first one have the same strengths and weaknesses, while the new ones bring in even more. I think even though this film tried to be accurate in a few areas, it doesn't do so as often as the first one, nor does it try as much. These dinosaurs feel more like movie monsters then animals. I'm going to give this movie…
6 stars out of 10.
Think you can live with that, Raptor?
Yep.
Jurassic Park 3 is next.
SQWAAAA!!!!